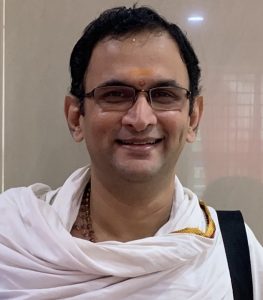 Sathya Atreyam has 25+ years of diverse experience in the Telecom Media and Technology (TMT) industry. He has hands on experience across the entire lifecycle of a Telecom Network including product development, network planning and operations, solution architecture, pre and post sales, product marketing. Most recently, as an industry analyst at IDC for 5 years he led the Worldwide Wireless and IoT Infrastructure research program. Since 2017, as an independent analyst, Sathya has delivered customer research  projects to research firms, technology startups, Wall Street investment analysts in the greenfield areas of The Edge, 5G, Industrial IoT, in addition to the traditional 4G/LTE area.
Sathya is equally passionate about discovering the intersection of Indic knowledge systems such a Aesthetics, Yoga Sutras, Paninian Grammar, Ayurveda, Tarka et al with contemporary 21st century technologies such as AI, Robotics, Emotional Intelligence, Cognitive Sciences, Linguistics, NLP et al.
Sathya has a MBA degree in Entrepreneurship from F.W.Olin Graduate School of Business (Babson College), MA, USA and a Bachelors in Electronics Engineering from University of Mumbai.